A moment about a specific bike they owned that only started at the fifth attempt, a specific group of riding mates and the moments they shared or just the moment they fell in love with Off-road. We want to hear those stories, and this time we look at Jack Chambers, and what he wants to share.
Enter the world of motocross and meet the remarkable Jack Chambers, hailing from the sunny state of Florida, United States. From a tender age of 3, Jack has been captivated by the exhilarating world of motorcycles, but it was at the age of 13 that his passion for motocross racing truly took flight.
Jack's unwavering motivation stems from the sheer joy of effortlessly gliding on his bike and the triumphant feeling that follows a challenging moto. It's the perfect fusion of skill, dedication, and perseverance that drives him to push his limits and achieve success on the track.
Throughout his childhood, Jack's loyal companion on the racing circuit has been the renowned KTM brand. However, fate had something extraordinary in store for him when he received an invitation to join the prestigious Dixon racing team, sponsored by Polisport. This opportunity marked a pivotal moment in Jack's career, as he found himself riding a Kawasaki. Embracing this change has proven to be a breath of fresh air, allowing Jack to broaden his horizons and adapt to a new bike, with new colors, new plastics without the burden of high expectations. The Kawasaki has quickly become a trusted companion, perfectly complementing his riding style.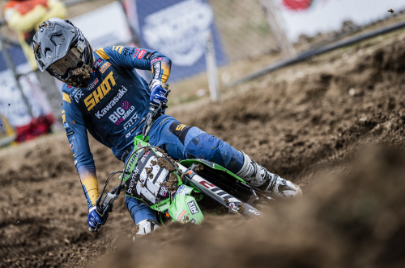 Among the countless thrilling moments on Jack's bike, one memory stands out—the unforgettable trip to Colorado last summer. Accompanied by his father and esteemed trainer, Zach Osborne, Jack embarked on an awe-inspiring dual sport adventure through the majestic mountains. Picture breathtaking landscapes, rugged trails, and the sheer thrill of off-road riding. It was an experience that etched lasting memories and further fueled Jack's love for the sport.
Here's an intriguing fact that few are aware of: prior to the age of 13, Jack exclusively participated in woods racing and off-road style riding. However, everything changed when he turned 15. It was then that Jack's racing journey took a new direction, as he fearlessly competed in the Monster Cup on a supermini bike. Since that pivotal moment, Jack's passion for motocross racing has grown exponentially, and he remains wholeheartedly dedicated to pursuing his dreams in the sport.
Stay connected with Jack's thrilling journey by following him on social media. Together, let's celebrate his triumphs, conquer new challenges, and revel in the extraordinary world of motocross. Prepare for adrenaline-pumping adventures on two wheels!