The Frenchman earnt second in Qualifying with an immaculate lap just one-third of a second off pole and utilised his smart gate-pick to round turn one second in the first moto before making a decisive pass for the lead halfway round the opening lap. He immediately raced clear to lead by six seconds after only ten minutes and coolly managed his lead perfectly to take the chequered flag first with an immaculate no-risk performance on the rugged track. His KX450-SR once again hooking up superbly out of the gate in race two Romain immediately established himself in the top three and after six minutes he executed a clever pass to move second. The leader was already several seconds in front; the Kawasaki gave chase to hold the gap for most of the race but in the end, with a huge advantage over the chasers, he sensibly rode home a secure second on the final lap to share top points on the day and take the series points-lead and the red plate into the final round at the same venue on Wednesday.


Romain Febvre: "That was definitely a big win in the first moto. I felt good on the track today though it's really sketchy in places with the loose surface on a hard base. I took the lead pretty early in the first race but it was tough at the front to be sure of the best lines. It was a heavy race and I struggled a little mid-moto but picked it up again at the end for a strong finish. I again got a great start in race two but I didn't want to take any risk of a collision to pass Prado and I lost some time to Jeffrey. I made some fast laps to close the gap a little but he was still three or four seconds clear so at one point I decided to settle for second and take the red plate to the final round. It may sound strange that I still don't feel any pressure. We have really good starts with our KX450-SR here in the sand so I'm confident for Wednesday. We are really close and the best man will win. It's game on!!"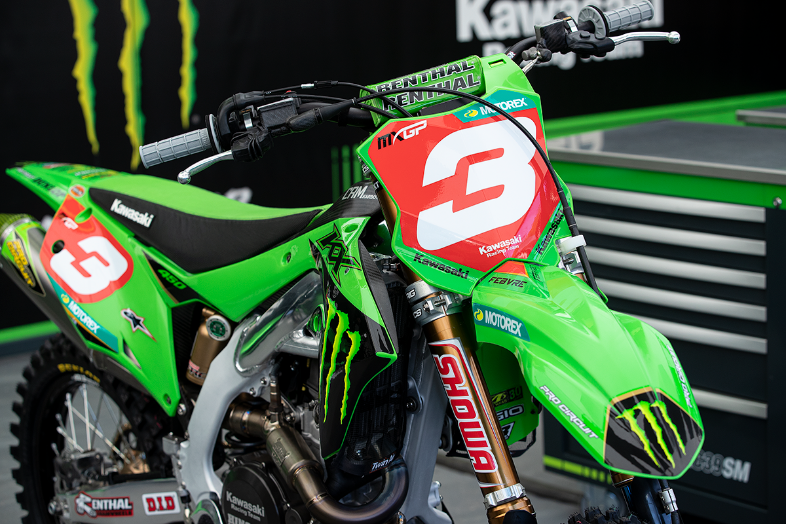 For Polisport, it has been an honor to support the team and to be associated with one of the best in the sport. We had the opportunity to work with the Monster Energy Kawasaki Racing Team, supplying our best products for tracks, like the Bike Stand, Bike Mat, Pro Octane, Pit Board, and, of course, our Replica Plastics.


We wish the best of luck to Ivo and Romain in their future races. It was a pleasure to see them in action!


Photos: Monster Energy Kawasaki Racing Team - Ray Archer