At Polisport, we work every day to have even more solutions that are increasingly
compatible with the different needs of our customers.
That's why we launched this new mounting system with new features!
Do you know Guppy Mini +?
Guppy Mini+
is a front bicycle seat for transporting the little ones! This bicycle seat can be applied at the front of the steering column. This seat has a footrest that can be
adjusted up to 4 positions.
Its cushion is
waterproof and easy to clean.
The seat can be moved backwards and forwards into
2 positions to fit the size of the child and bicycle.
Guppy signifies new standards for baby seats in terms of
comfort,safety
and
functionality,
all in one!
The original shape reflects inspiration from the automotive industry and a concern for style, while the details show the effort to increase
comfort
and
performance.
Did you know, also, that the bicycle seat
Guppy Mini +
has won the
If Design Award
, for its
ergonomic
and
functional design
?
Guppy Mini+ features now a new mounting system

To increase bicycle compatibility, GUPPY® MINI+ features now a new mounting system. With this new Front Head Tube Holder+, the bicycle compatibility is not influenced by handlebar geometry because the seat is installed behind the handlebar. It also features 3 different sets of adapters with different sizes and shapes to assure a perfect fitting. The novelty comes reinforced with an included ahead adapter for 1"1/8.
The holder can also be easily integrated with the Polisport windscreen and comes with an additional anti-theft screw for locking the system and therefore preventing the seat from being stolen. Fits round frame tubes from Ø22 to 40 mm and needs only 35 mm space available to be assembled.

Suitable for standard bikes, E-bikes, MTB, and E-MTB.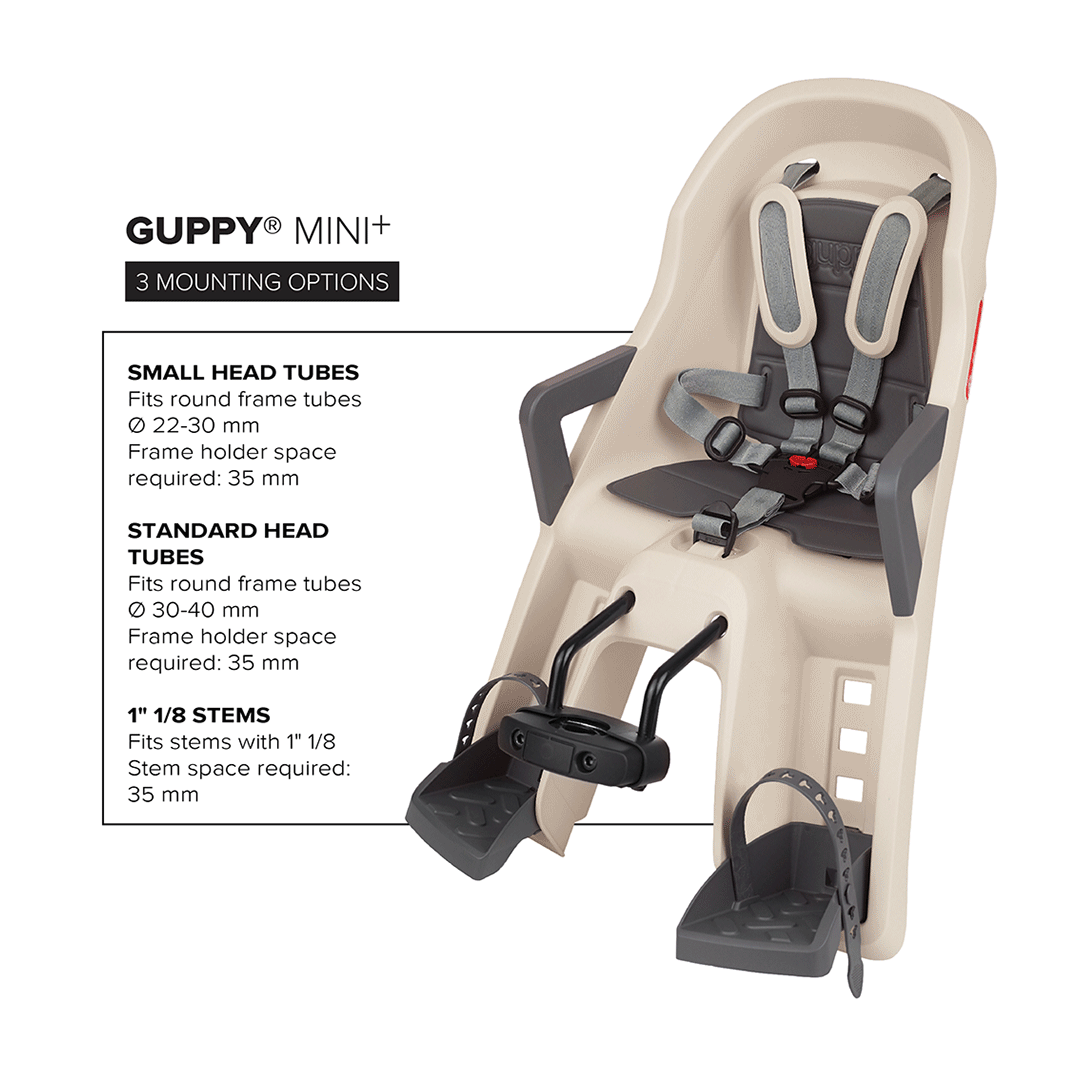 We also take the next step to be greener

We are proud to be part of the Cycling Industries Sustainable Packaging Commitment and proud that Polisport was one of the first companies to sign the pledge. And the packaging for our Guppy Mini+ was the starting point of this commitment with:

1. Significant decrease in single use plastics.
2. Manuals and quick guides that serve the entire front seat range, increasing our efficiency and paper use.
3. Individual box, manuals and headcard FSC ® certified.