Practical, well-thought-out and minimalist design that perfectly matches your bike, E-bike or Speed-Pedelecs. The E-cargo Box has a universal fitting that allows quick and easy installation on any bike or E-bike with a pannier rack.


The base of the E-cargo Box has a perforated design, which allows the mounting system to be applied at multiple points, increasing its compatibility exponentially.


With a capacity of 30 litres and a locking system with a key, the new E-cargo box presents itself as an excellent option to transport all the cargo you need daily in your commuting. The E-Cargo Box is waterproof and lockable with a larger cargo capacity than conventional Top Cases.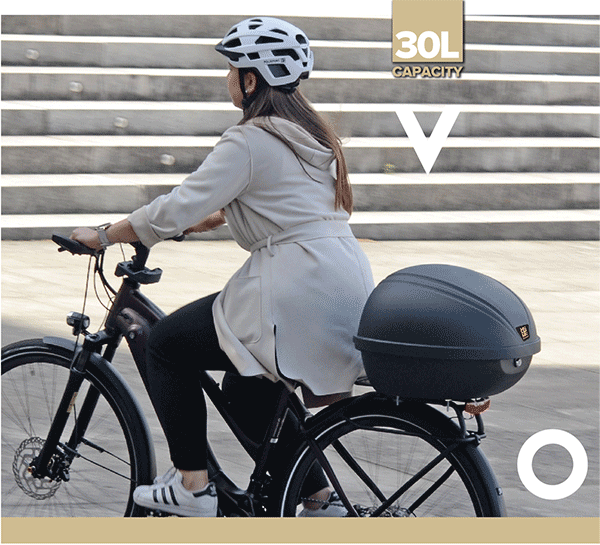 Technical Characteristics:
•
Capacity - 30 litres
•
Locking system includes 2 unique keys
•
Waterproof
•
The mesh system at the base (where the mounting system fits) is protected with a lid to prevent the ingress of mud, water and dirt
•
Perforated design on the base offering multiple connection points on the bottom of the E-Box ensuring maximum compatibility with a wide range of luggage carriers
•
Push the button and the E-Cargo is locked - convenient and simple.
•
Urban styling - matt finish
•
Mounting kit included
We Move You Through Life